I produce injury recovery and pain relief programs to quickly get you out of the pain cycle, and back to the activities you love — using research-based movement sequences you can easily perform from home.
Here's the story:
Back in 1994, I started out as a personal trainer and exercise therapist.
My main goal? To help people overcome their debilitating pain and nagging injuries that wouldn't go away.
I was blown away by the huge number of good, healthy people, who were getting little to no help from their doctor or other "experts".
Many of my clients told me their specialists and therapists couldn't pinpoint the cause of their problems. Even worse, their prescribed exercise routines often resulted in even more pain.
Still new in the industry, it was a wake up call for me — that most "traditional" pain relief methods were not working. When I realized that mainstream advice wasn't providing lasting pain relief — I founded Exercises For Injuries in 2001.
With limited time in the day to work face-to-face with my clients...my new online platform let me reach tens of thousands of people in pain (today, it's hundreds of thousands).
Why My Approach Is Different
From Day 1, all of my methods have been grounded in meticulous research. I examine dozens of peer-reviewed research journals before formulating a relief program.
Our proprietary methods use the scientifically rigorous research and high ethical standard of PLOS ONE — the world's first multidisciplinary Open Access journal.
That's the reason Exercises for Injuries customers get the leading-edge in musculoskeletal science. Combined with my decades of hands-on experience, this combination has helped thousands of people desperate for relief, like Annie…
My arthritis is really bad hip is bone to bone with bone growth on it. The pain was so bad I could not get comfortable trying to sleep...I am now able to find a comfortable way to fall asleep. Thank you

Annie Lopes, Makawao, HI
I had spinal surgery a year and a half ago, which has immobilized my hip flexor and psoas muscles….

Somehow, I have stumbled across you and you ended up in my email list and sent me your program. (Maybe sent from the Angels) I decided to give it a try. I did your program for the first time this morning and after doing the stretches in your Unlock Your Hip Flexors program, I have noticed that I am walking with more comfort and ease. The discomfort is down 80% and I can stand up much straighter as well. I now have the ability to use the washroom, which has been quite difficult in the past.

I just wanted to thank you for the series. It definitely unlocks and unravels as you said. I think I'm going to have a much better day today. You are a gift! You have no idea. So grateful!

Kristie Moore,

Owner, Enhance Studio Medi-Spa Ltd. Vernon, Canada
I am a 29 year old appliance engineer, which means I am often lying underneath washing machines and dishwashers in awkward and tight positions. Before using the Unlock Your Hip Flexors program, I had a stiff and sore body, really tight hips and anterior pelvic tilt.

But then, I found the Unlock Your Hip Flexors program, tried it out and I was very surprised with the results. Even after just 1 week of use, I could feel an improvement to my upper leg and core strength. I can also SEE that my anterior pelvic tilt had begun to improve a little.

I enjoyed the in depth analysis of the psoas muscle in the manual. It's like the EFI team put a lot of effort in professional researching. This makes me feel that Rick really knows what he is talking about. Also, I feel I should mention that I found the the exercises very enjoyable. Some of them are new to me, which is exciting, and are very easy to follow.

Thanks again.

Chris Holmes,

Appliance Engineer Edinburgh, Scotland
I did the first day of Unlock Your Hip Flexors program this morning and can't believe the difference I felt. I've had this pain in my hip constantly for 3 weeks and bad sleep but Unlock your Hip Flexors seriously stopped the pain in all day which is AMAZING!

Thank you.

Tracy McCabe,

Cosmetic Tattooist Melbourne, Australia
What I have noticed by doing the Unlock Your Hip Flexors is my hips are getting stronger and therefore releasing the pain in my lower back and legs.

I just used it for two days but I really can tell the difference. This is a wonderful program, it has helped me immensely. Thank you.

Lisa Box Barker,

Teacher, Ripley, Mississippi
I am very pleased with the Unlock Your Hip Flexors exercises that they showed us how to do. I've had tremendous results from just doing the simplest ones. I have been suffering from low back pain and hip pain for some time now.

This is the real deal. Don't know about all the other stuff but the Unlock Your Hip Flexors exercises are terrific!

Lisa Bayne,

Former Patient Care Coordinator
Before using the Unlock Your Hip Flexors, my hips and glutes have been very tight. In the recent years, gluteals have been an issue (dry needling bent needle on first treatment).

But since I started using the Unlock Your Hip Flexors, my glutes and hips are not tight anymore. I also use your exercises to expand what PT has me doing and it is giving me great results.

The best thing about the Unlock Your Hip Flexors is it is really proven and guaranteed! I have nothing to hate about this program. All you need is a commitment to the program and wait for the awesome results!

Thank you.

Mark Craig,

Retired Educator Denver, CO, United States
Simple Tweaks Designed For Huge Results
To effectively reach thousands of people in pain, I designed every program to be insanely simple.
I knew charts, graphs, and complex routines would gather dust in cabinets. That's why I'm determined to focus only on exactly what you need to escape pain.
The library of 120+ programs can all be watched and learned in minutes.
It was, and still is, pretty unconventional compared to most of the "institutional" advice being given out.
But, I didn't really care what doctors or old-guard physical therapists thought of me...because the proof was in the pudding. Thousands of people — and a few you met above here — were improving their lives right in front of me.
100,000 People Before You've Poured Your Coffee
My daily email newsletter reaches over 100,000 people every morning.
(It's a daily email with an interesting tip, recipe, or exercise routine to boost your health immediately or share with a friend or family member who needs it.
You can join the list on the home page of this site when you download the checklist.)
My 120+ pain-reducing programs have helped people from every corner of the globe, to beat their debilitating pain. After helping so many folks, I couldn't help but get some recognition...
My work has been published and featured in publications such as:
Livestrong.com
Men's Health Magazine
National Strength and Conditioning Association
Canada.com
Best Health
San Francisco Chronicle
Live Pain Free
Iron Man Magazine
Here, you can see me speaking in front of an audience of 500+ fitness professionals: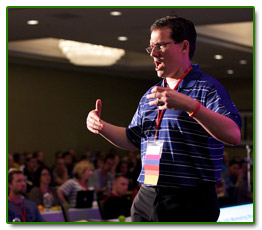 When I'm not finding new research and new ways to help people like you…you'll find me in Kelowna, British Columbia, Canada.
That's where I like to ski with my family, go on hikes with my two kids, my wife, and my dog.
Dad, Hiker, Skier & Pain Hacker
In 2002, I fulfilled my lifelong goal of hiking the Pacific Crest Trail (you might've heard of it from the popular book Wild by Cheryl Strayed). I hoofed it over 4,300 km of stunning mountain ranges, deep valleys, and raging rivers.
This isn't to toot my own horn, but rather show you my obsession for tackling long trails. I also mountain biked the 5,000 km Great Divide Mountain Bike Route over the Rocky Mountains from Mexico to Canada.
Let's face it, I'm a travel junkie! Right now I have 17 countries on my passport and I love getting out to travel and spread my mission of stopping pain and living fully.
Yours in eliminating pain,
Rick Kaselj
MS (Exercise Science), B.Sc. (Kinesiology), PK, CPT, CEP, CES
Founder — ExercisesForInjuries.com